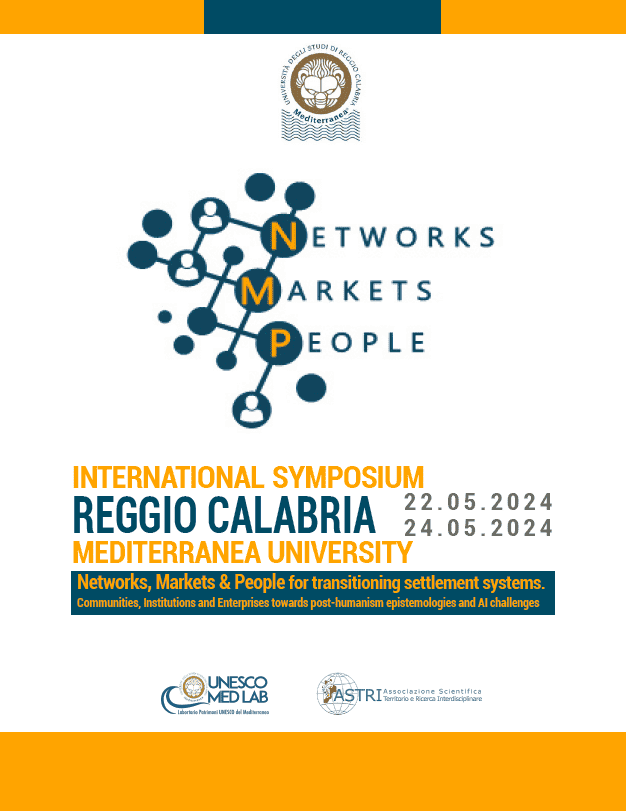 This event is organized with the aim to stir up conversation in the national and international scientific community about how the Green Deal, Agenda2030 and other sustainability, transition and cohesion trends and policies challenge the urban-rural reality. The event focuses on the inner areas and the metropolitan cities of the Mediterranean basin, and explores how these territories are impacted by the current environmental, technological, social and economic global challenges.
Climate change, adaptive and flexible production, ongoing digital revolution including the use of artificial intelligence, social innovation practices, collaborative governance models, open innovation frontiers, human and non-human entanglements, are just a few trends that encourage the scientific community to rethink the concepts of proximity and interdependence within human settlements. The symposium sets to discuss these trends and looks for novel methods and tools to support decision-makers navigating green and digital transitions in their local setting.
CETRAD, as an international partner of the Symposium, encourages it researchers and stakeholders to contribute with their local knowledge and experience to this conversation on transitioning settlements and attend the event on the 22-24 May 2024, in Reggio Calabria (Italy).
The organising committee invites papers and project descriptions to be submitted to the conference, starting from November 14th and until December 18th, 2023. The papers must be submitted through the Symposium's web portal: www.nmp.unirc.it. Accepted papers will be published in Lecture Notes in Networks and Systems (LNNS) by Springer. LNNS is indexed in the Conference Proceedings Citation Index (CPCI) as part of Web of Science, Scopus and other renown databases. Open access publication option is also available.
The organising committee also offers the opportunity to propose sessions dedicated to the in-depth analysis of specific local topics or novel ideas. Sessions that embrace cross-cultural, transnational and Euro Mediterranean based issues are particularly welcome. The session proposals must be submitted to nmp@unirc.it by November 13th, 2023. If you are interested, download the session proposal form HERE.
IMPORTANT DATES
November 13th, 2023 Session submission deadline
December 18th, 2023 Paper submission deadline
February 13th, 2024 Notification to authors
February 24th, 2024 Author Registration deadline
May 22th-24th, 2024 Symposium
The definitive programme will be available by the end of April 2024. Follow the Symposium updates at www.nmp.unirc.it