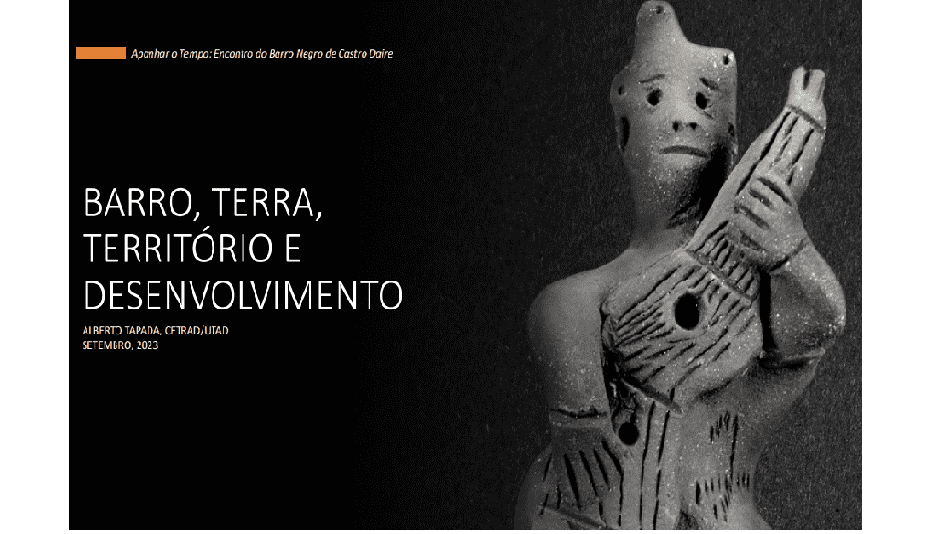 On September 22, at the event APANHAR O TEMPO: ENCONTROS DO BARRO NEGRO DE CASTRO DAIRE, CETRAD researcher Alberto Tapada presented the communication: Clay, Land, Territory and Development.
The Encontros do Barro Negro de Castro Daire (Castro Daire Black Clay Meetings) are a forum for reflection, sharing and practice on a specific example of the handicraft production of utilitarian and figurative pottery pieces, centered in the village of Ribolhos. The distinguishing features of this type of handicraft are the extraction of the grey clay found in the region and the firing process, soenga, which together give the pieces their final color. The Municipality of Castro Daire and the local communities are aware of the importance of valuing this ancestral craft through innovative strategies, in collaboration with local and national entities and initiatives.
The Encontros do Barro Negro (Black Clay Meetings) are held under the theme "Catching Up with Time", i.e. they are intended to contribute to a new cycle of visibility and creation, which will make it possible, in the near future, for there to be more craftsmen and women, greater artistic and design diversity, new entrepreneurial projects that use black clay as inspiration and the establishment of perennial craft education processes aimed at young people and adults.