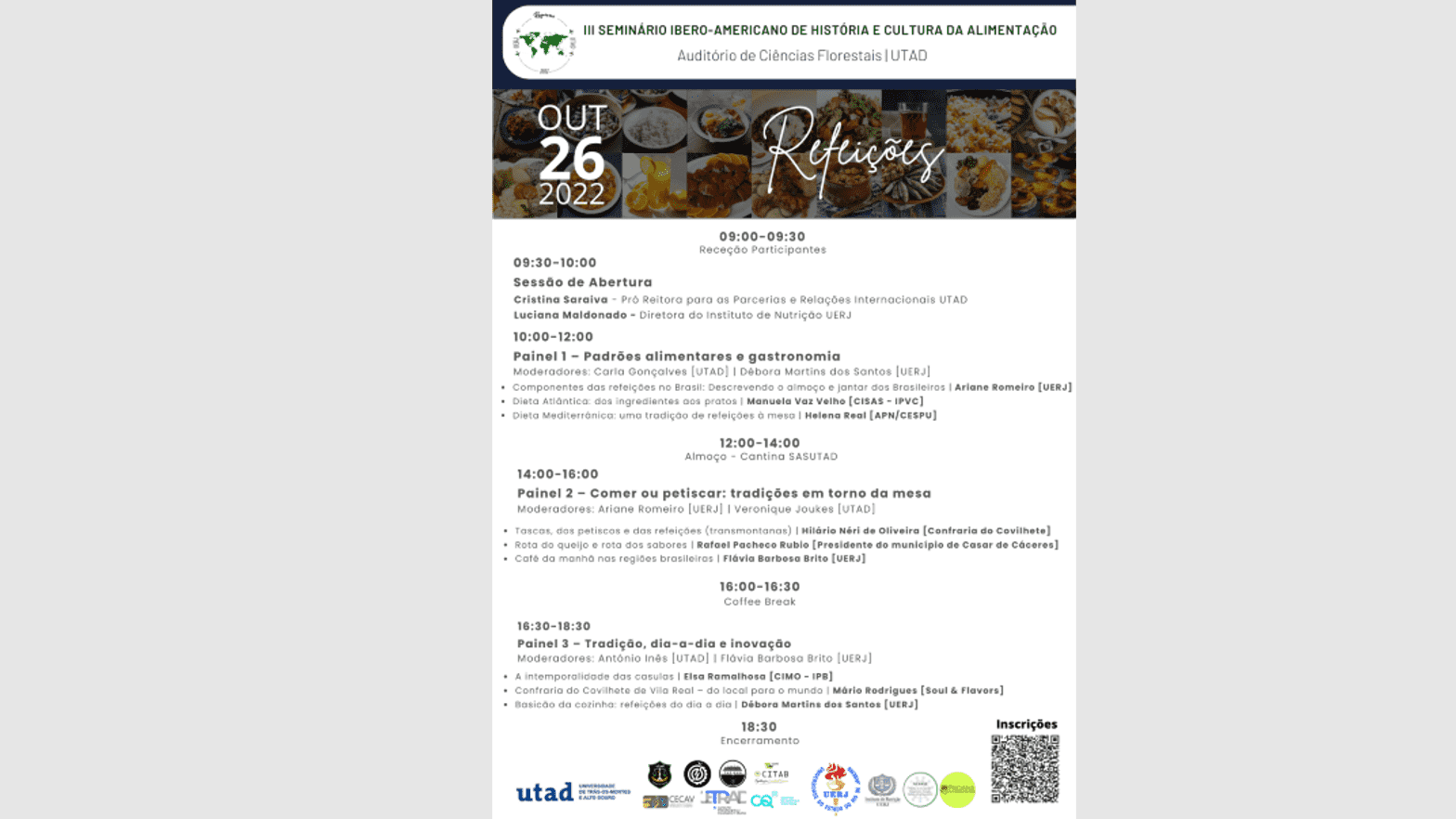 Registrations are open for the III Edition of the Iberoamerican Seminar on History and Culture of Food, this year with the theme "MEALS".
The III Iberian American Seminar on the History and Culture of Food is a seminar organised by the University of Trás-Os-Montes e Alto Douro – UTAD (Portugal) and the State University of Rio de Janeiro – UERJ (Brazil). Being omnivorous, Man consumes the food resources available in nature by controlling, modifying and selecting based on his individual and collective preferences, as well as on the food resources of the environment in which he finds himself. This is how meals, identified as portions of food consumed at regular times during the day, are woven together. Its origins refer to the complex network of biological, psychological and socio-cultural elements which differentiate us according to the contexts in which we are inserted. The third edition of the Ibero-American Seminar on Food and Culture is taking place as part of the exchange of technical and scientific experiences in the field of food, nutrition and culture for the construction and development of community actions geared towards the promotion of health and adequate and healthy food. This year's theme is "Meals". In this sense, traditional meals from Brazil and Portugal will be adopted as a pillar. The event aims to make a journey to the cultures that intersect the Ibero-American axis, expanding to the various continents around the world.
The event takes place on 26 October 2022, in the auditorium of forest sciences. The registration to the event includes certificate of participation, lunch and coffee break. Places are limited. The full programme of the event can be consulted in the attached brochure.
This year, for the first time, the intercultural culinary workshops will take place in the same week, where we intend to promote a reflective discussion around culinary preparation and tasting of typical dishes from Portugal and Brazil in the Kitchen Lab.
Registration:
Workshop:
Workshops: