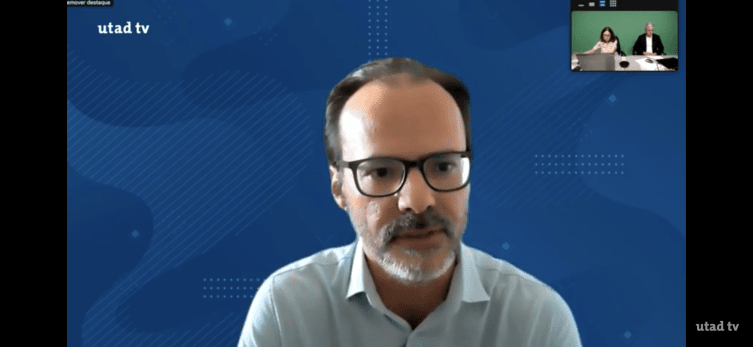 The climate crisis and the territories in 2050: Towards an interior desert?
The third session of the Territory Talks cycle, organised by CETRAD in the context of its 20th anniversary, took place on 20 September, this time with the aim of debating the territorial impacts of the climate crisis.
The guest of this session was Prof. Dr. João Santos, (Physics Department of UTAD), who reflected on the climate crisis and the future of the territories in 2050, answering several imminent questions about the territorial impacts of climate change: Can vines disappear from the Alto Douro? Will the Alentejo and the entire interior of the country become an immense desert? Will there be a lack of water in Tejo and Lisbon? Is it possible that the Algarve will cease to be a tourist destination in the summer? Or that the ocean will flood the beaches of Costa Nova and the banks of the Sado estuary?
The guest started the session with a reflection on the global state of the climate crisis, reflected on the situation in Europe, in the Iberian Peninsula and ended with an explanation of the situation in Portugal.
The session was mediated by Prof. Dr. Livia Madureira and Prof. Dr. Luis Ramos from CETRAD.
The "Territory Talks" are a contribution to imagine and/or (re)think the place that territories can and should occupy in the construction of a prospective, desirable and possible scenario for Portugal, in the light of the major societal, environmental and technological challenges of the 21st century : the demographic transition/crisis; the climate crisis, the efficient use of resources and the safeguarding of natural ecosystems, agriculture and the transition of the global food system, the reconfiguration of the globalisation model and re-industrialisation, the digital transformation of society and the new models for work and for the mobility of individuals and companies, the crisis of democracy and how to encourage citizen action.
Watch this session https://www.youtube.com/watch?v=kNS_YQXC_Lc&t=1392s
Biographical note on João Santos
The guest speaker for the next session of the cycle "Territory Talks – Conversations about the Future(s) of the Territory(s)" is a professor at the Physics Department of UTAD and director of the Agro-Environmental and Biological Research and Technology Centre (CITAB), where he coordinated the research line "Integrated monitoring of climate and environmental impacts".
PhD in Climatology from the University of Lisbon in 2005 and graduated in Geophysical Sciences / Meteorology from the University of Lisbon in 1995, João Santos is a specialist in Atmospheric Sciences, Climatology, Climate Change and its impacts.
He also integrates the teams of several national and international projects, including the coordination of the European project Clim4Vitis.